Highlights of the ASM
The annual scientific meeting of Québec-Océan took place in virtual mode from January 31 to February 3, 2022, including a workshop organized by the student committee. For this second virtual edition, more than two hundred people from universities collaborating with Québec-Océan (Laval, UQAR, McGill, UQAC, INRS-ETE), Allied organizations, UQO, several partners as well as people from the public gathered to discover the latest advances in oceanography. The 30 poster presentations and 15 oral presentations given by 13 students and two professors covered all disciplines of oceanography. Participants were able to discover laboratories by watching videos of presentations made by our participating members, as well as the major achievements of the Québec-Ocean themes through the capsules made by our theme leaders.
GROUP PHOTO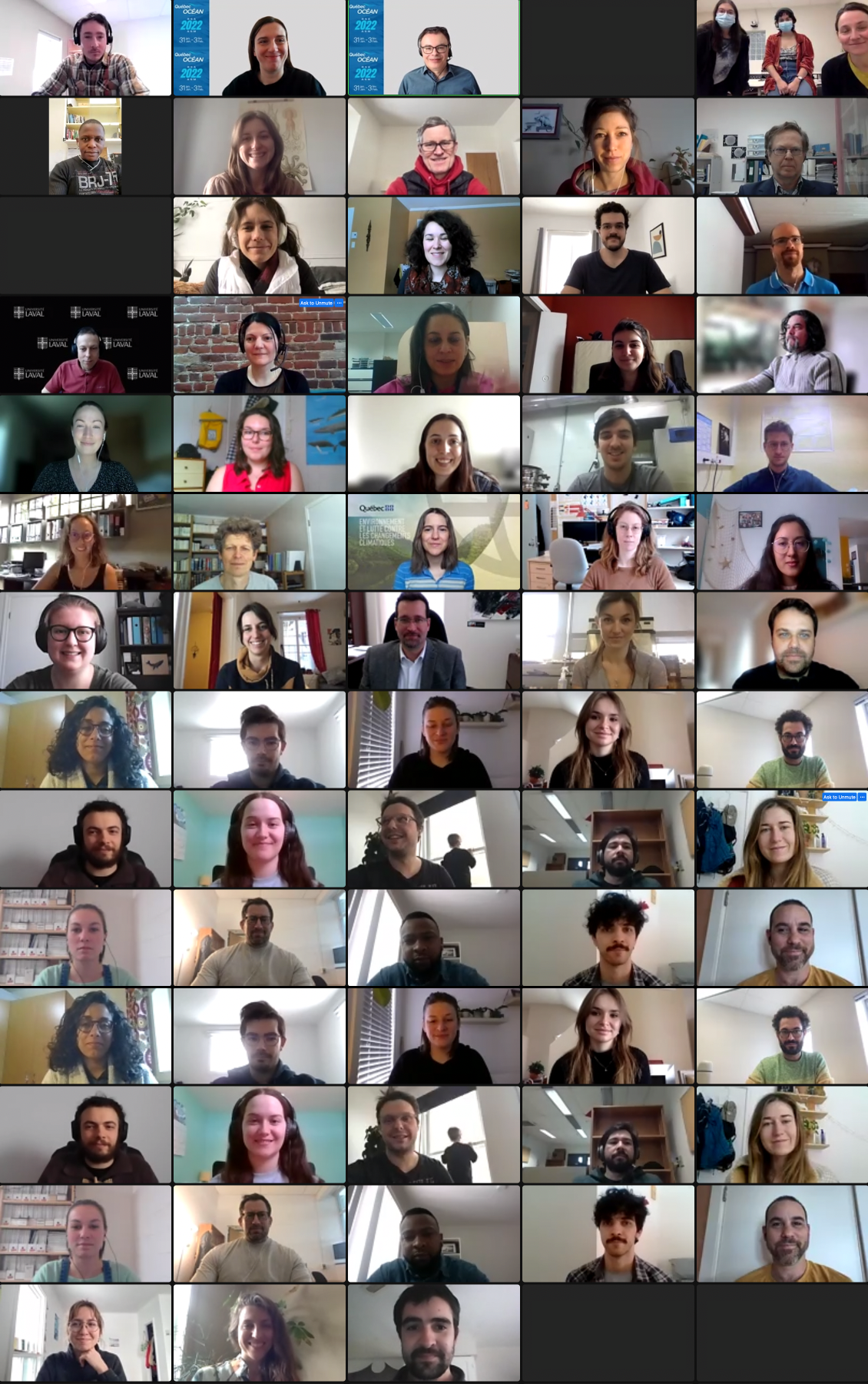 Highlights include the quality of the award-winning student presentations (see below). Two guest speakers who recently joined Québec-Ocean were able to present their work and research perspectives:
| | |
| --- | --- |
| | Lucie Beaulieu (U. Laval) gave a presentation on the quality of Québec's aquatic resources. |
| | André Pellerin (UQAR-ISMER) spoke about the cycle of sedimentary sulphur in continental sediments. |
The presence of our allies from Stratégie Saint-Laurent, the Centre d'Expertise en Gestion des Risques d'Incidents Maritimes (CEGRIM), Exploramer, and M-Expertise, who came to present their organization, allowed for fruitful and promising exchanges for the future.
On Tuesday, February 1st, a workshop organized by the student committee on the basics of data visualization to enhance the value of one's data was greatly appreciated.
On Wednesday, February 2nd, the student committee organized a student assembly to introduce itself to new members.
STUDENT PRESENTATION COMPETITION
Nine awards, including seven cash prizes, were presented by students who made outstanding presentations.
Two oral presentation awards
Méril Mérindol (UQAR-ISMER), G. St-Onge, N. Sultan, P. Lajeunesse, S. Garziglia

Submarine landslides triggered by the 1663 earthquake (M>7) in the St. Lawrence Estuary, Québec, Canada: implication on the location of its epicenter

Aude Flamand (UQAR-ISMER), D. Whale, J-F. Lapierre, G. Chaillou

Le destin de la matière organique dissoute relâchée par le dégel du pergélisol côtier dans la région de la mer de Beaufort
Three poster awards
Charlotte Carrier-Belleau (U. Laval), L. Pascal, C. Nozais, P. Archambault

De l'individu à la communauté : effet d'un stress osmotique le long d'un gradient en enrichissement en nutriment chez une communauté d'eau douce

Luis Avila (UQAR-ISMER), P., G. Winkler

L'hétérogénéité spatiale des jeunes stades d'éperlan arc-en-ciel et de poulamon atlantique dans la mosaïque des habitats de l'estuaire moyen du Saint-Laurent

Marie-Pomme, Presne-Poissant (UQAR-ISMER), E. Dreujou, F. Noisette

Linking functional traits ant ecosystem functioning in a Canadian coastal eelgrass meadow
Poster without results awards
Guillaume Blais (U. Laval), P. Archambault, G. Chaillou

Comparaison des communautés benthiques des fjords issus de glaciers marins et terrestres du Groenland
Public awards for oral presentation
Ella Guscelli (UQAR), D. Chabot, F. Noisette, P. Calosi

Survie et performance physiologique de la crevette nordique dans le contexte de changements globaux combinés futurs
Public awards for poster
Abïgaëlle Dussol (UQAR-ISMER), C. Chavanne

Un vent nouveau sur l'algorithme d'estimation du champ de vent par un radar haute-fréquence
Public award for theme clip
Mathieu Cusson (UQAC) et Fanny Noisette (UQAR-ISMER)

Thème 2.4: Connaître les espèces et le fonctionnement de leurs populations et communautés
Public award for lab clip
Laboratoire de Gwénaëlle Chaillou

(UQAR-ISMER)
CMOS awards
Abïgaëlle Dussol (UQAR-ISMER), C. Chavanne

Un vent nouveau sur l'algorithme d'estimation du champ de vent par un radar haute-fréquence
Congrats to all the winners!